Spain is an amazing country which has attractive jurisdiction to start your business because it is part of the European Union and you can find here legal and economic certainty.
Spain Business Immigration Visa
Program Details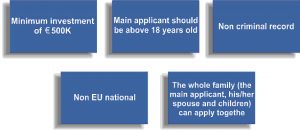 Investment in (SPAIN)
The country represents a competitive market with a high demand of about 47 million people and it is an important bridge to the countries Latin America.
It is a good platform fur business with great potential for growth that makes it accessible to implement plans for investment and set up a new company.
Spain is a popular immigration direction due to its high level of leaving and health care, good business environment. Therefore, Spanish business visas remain to be very popular among non-EU foreigners who want to start their business in Europe.
General requirements for a (Spain-visa)
You should not be in Spain in an irregular situation.
You should be over 18 years of age.
You should not have any kind of criminal record in Spain or in the countries where they have resided for the past five years, for offences defined in the relevant Spanish legislation.
Majorly, You should not be subject to an alert issued for the purposes of refusing entry in the territorial space of countries with which Spain has signed an agreement in this regard.
In order to apply for a visa, you should have a public or private health insurance policy with an insurance company authorized to operate in Spain.
You should have sufficient financial resources for themselves and their families during their residence in Spain.
You should have paid the visa or authorization processing fee.
The spouse or common-law partner and any children under 18 years of age or those of legal age who cannot provide by themselves and have not constituted their own family unit and parents who are dependent, who accompany or join the foreigner, may apply jointly and simultaneously or successively for their authorization and, where appropriate, their visa. In this case, evidence must be provided of being in compliance with the requirements listed in the preceding paragraph.